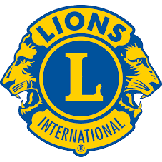 The Lions Message in a Bottle scheme is a simple idea designed to encourage people to keep their personal and medical details on a standard form and in a common location - the fridge. Whilst it is focused on the more vulnerable people in our community, anyone can have an accident at home, so this scheme can benefit anyone, including you.
have an accident at home, so this scheme can benefit anyone, including you.
How does the scheme work?
As the name suggests, the personal information is kept in a small plastic bottle. The bottle has a push-fit lid and is big enough to hold the necessary information. The bottle is then kept in the fridge, where the emergency services will expect to look for it in the event of being called to your home. They will be alerted to your membership of the scheme by two 'green cross' labels. One is fixed to the back of the front door (or the door most used to access the premises), the second is attached to the door of the fridge.
Where can I get a Bottle from?
Bottles are available from Southbourne Lions tel 0845 833 5816. Bottles are also available from doctors' surgeries.
How much does it cost?
There is no cost to the user. Costs of running the scheme are being borne by local Lions Clubs.
Jo Baker of Southbourne writes
Thanks to the Lions. When I had a heart attack late one night, the ambulance staff were able to see from the sticker on my door that I had a Lions container in my fridge. This contained a copy of my medications which in turn meant staff at the hospital knew what I was taking as soon as I arrived there.
For more information, please see our "Contact Us" page
EMERGENCY INFORMATION SCHEME
Complete the form and put it in the bottle.
Put the bottle into your fridge.
Place one green sticker on the inside of the front door.
The other sticker goes on the fridge door.
This simple idea could save a life - Your life!
This plastic bottle, kept inside your fridge, provides the Emergency Services with a contact name and vital details of any illness or allergy you may have, if they are called to an emergency involving YOU.
Essential for anyone living alone.
BOTTLES ARE AVAILABLE FREE OF CHARGE
From Doctors' Surgeries, Lions Clubs and many other places